Other training plans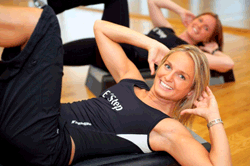 We present various types of trainings on this page. These are tested, safe and very popular exercises. If you follow our instructions you will have a really flat and carved stomach.
Various types of training for abdominal muscles
Weider 6 Pack training (W6)
Weider 6 Pack Training is a well known training of abdominal rectus, which we generally call a six-pack. W6 is a great training for all those who want to start their adventure with sit-ups or would like to get back to training after a long break.
It doesn't matter if you're aiming for a great six-pack or you just want to have a flat stomach – W6 will be perfect for it.
ABS2 – Advanced Training
ABS2 is a training suitable for advanced sportsmen. If Weider 6 Pack Training takes you too much time but you want to continue your progress, ABS2 is for you.
It is a training that develops all abdominal muscles. It is designed so all the muscles cooperate precisely with each other.
It is a really hard exercise for tough guys.